Oct. 04, 2021 by Will Jones – Director of External Communications
First district-based commercial greenhouse in nation to grow "salad bowl" items for schools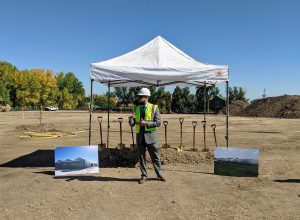 Denver – Students in Denver Public Schools (DPS) will soon be able to dine on vegetables and fruits from the school district's very own commercial greenhouse. District officials are breaking ground on this revolutionary project on Tuesday, Oct. 5, from 12 – 12:30 p.m.  See the CBS 4 report here.
The new five-acre facility will be the first in the nation to grow "salad bowl" items for students. Members of the DPS Food and Nutrition Services team will initially grow cherry tomatoes and tomatoes on the vine. As yield and production improves, they will add leafy greens and vine crops such as peppers, cucumbers and strawberries. The crops will be used in meals at DPS facilities. Excess fruits and vegetables will be sold to other regional school districts and retail/wholesale buyers.
The $4-million project is being financed by grants from Healthy Food for Denver Kids and the U.S. Department of Agriculture, along with bond funding from Denver voters and other district funds.
Food and Nutrition Services began this effort more than six years ago. The greenhouse will be plant ready in late spring of 2022.