Gardens Programs and Resources
Welcome to Gardens:
Winter is a wonderful time to plan for spring and prepare the garden to enhance growth in spring.  By feeding the soil we promote a healthy soil ecosystem that will best support plant health, production and the ability to defend against pests and disease.  Adding 1-2 inches of mulch or aged compost will help keep the soil from drying out and will feed the soil ecosystem through the winter.  If you have the ability to water through the winter, sowing a cover crop of oats or clover will improve the soil.
With our extremely warm, windy and dry weather this fall, be sure to water your trees, shrubs, perennials and lawn every 3-4 weeks when their is not snow on the ground. If your school would like to schedule a workday to clean up, please contact Chris at 720-456-9083. Please allow 2 weeks to schedule the workday trailer that has tools, gloves and wheelbarrows.
If you are a community partner or volunteer interested in supporting gardening at a DPS
school that is not affiliated with Denver Urban Gardens, please contact Chris at 720-456-9083.
Quick Links and Resources
A convenient guide for when to plant and harvest.
A convenient guide for when to plant and harvest.
Welcome Students!
"Wonder is the antidote to apathy. Gardens spark wonder of the natural world and provide sanctuaries for our students and community."
Garden Of Youth Internship
Mission:
The DPS Garden of Youth program connects students with disabilities with paid work experiences through DPS gardens. The goal is to provide them with extended job skills training and prepare them for future employment through growing and selling organic produce.

Program Overview:
The Garden of Youth program provides paid summer internships to 16-21 year old students with IEP's to develop job skills. Each summer, young adults meet in small groups at eight school garden sites across the district to learn and practice soft job skills through planting, maintaining, harvesting and selling organic produce. Job coaches provide extended training and mentoring over 10 weeks. Each week, all of the small groups gather together to explore a topic and learn a new job and skill. Interns practice talking with customers and merchandising at local farmers markets as they sell the produce. Garden of Youth is a partnership among the Sustainability Team, AceConnect, and the Division of Vocational Rehab.
More details can be found here.
Garden of Youth Making Headlines
Garden of Youth interns planting at the George Washington HS garden.
The DPS Garden of Youth (GOY) program provides job and life skill training to high school students with disabilities.   Students complete interviews and are hired as paid interns, working in teams at eight schools across Denver.  Interns experience work as active and vital participants in their community; bringing healthy, fresh food to local residents and businesses while simultaneously learning about nutrition, healthy lifestyles and practicing their job skills.
Students engage in planting, maintaining and harvesting fresh vegetables and herbs.  Seedlings are cultivated in special education classrooms by students.  Plants are transplanted to garden plots and tended by paid student interns selected to continue with the program during the summer.  Garden of Youth interns sell harvested produce at local Farmers Markets.
Dedicated DPS staff mentor students through the summer to successfully market and sell produce, providing training in the areas of independence, job readiness, merchandising and customer service.  These skills are transferable to any job a student may pursue after the season is complete.
Interns participate in cooking classes led by a local chef offering instruction in preparation techniques and nutrition.  Students are encouraged to take home any produce that their family will use.  We are dedicated to connecting the organic produce to school cafeterias through the DPS Garden to Cafeteria program and local food banks.
All participants earn high school credit for work hours completed.  Those who wish to continue working during the summer will earn both school credit and an hourly wage.  Currently, eight schools across the host Garden of Youth program.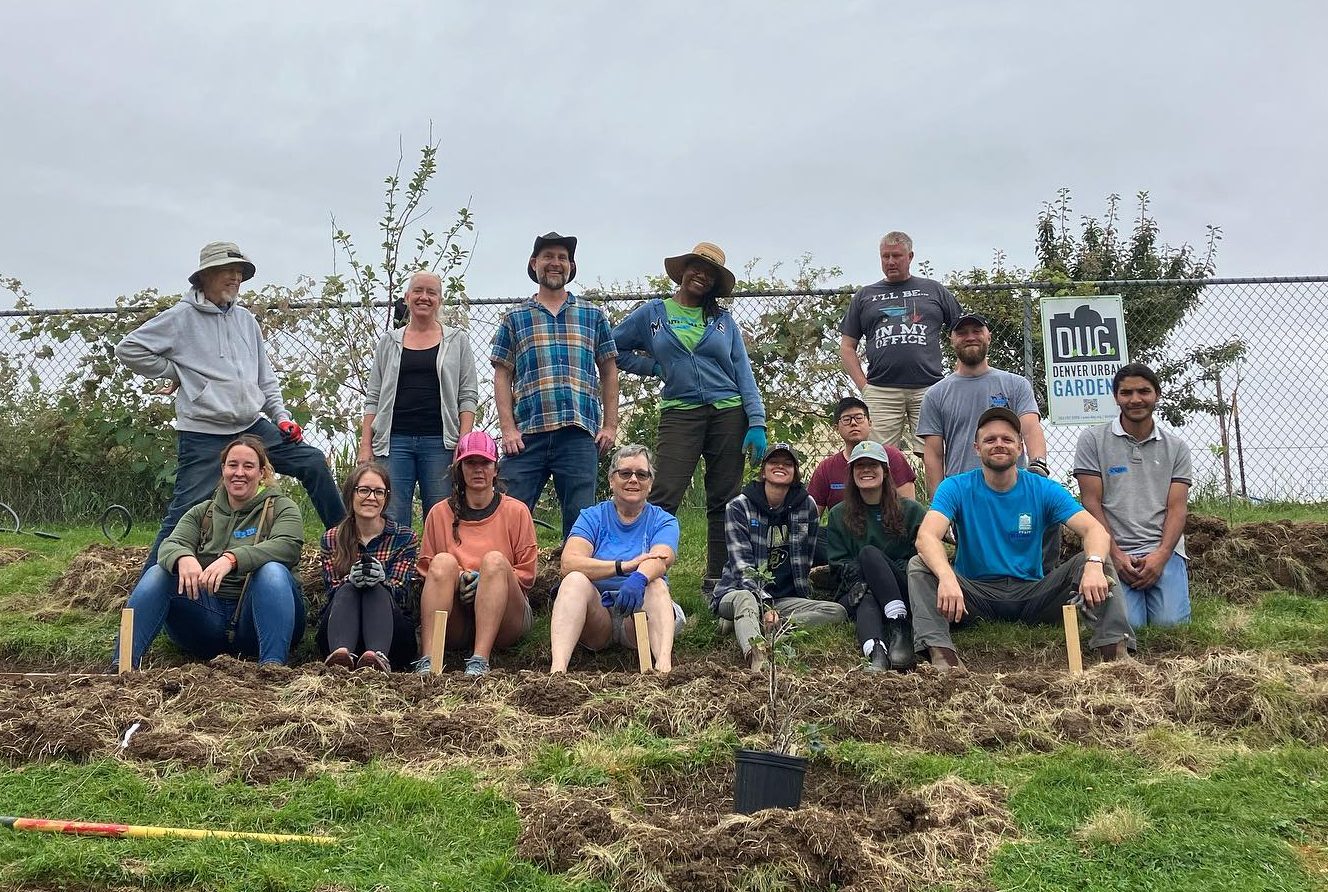 Denver Urban Gardens Volunteers
Explore DPS Sustainability Initiatives